Modern Shorthorn Herd
Daisy Mae
Full sister to Daisy Bell. Slightly larger framed but with a very smooth pattern.
Pearl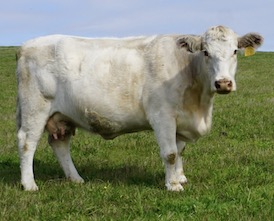 Extremely thick cow, excellent milker, and great udder.
Rose
Our oldest cow. She is slightly larger framed with an excellent udder. She is the mother of current herd sire Whisper Thunder. She has always bred back on her first heat cycle and did a great job raising twins.
Rose Ann
Grand daughter of Rose. She is developing into a great looking, complete cow.
Shelley
One of our keeper heifers. Daughter of Pearl. She will calve at 21 months of age next February.