Heritage Influenced Shorthorn Herd
Daisy Mae
She is a large framed cow who has been a consistent producer in our herd. She has an excellent udder and her calves have always been at the top of the growth chart.
Dixie Belle
Dixie Belle is a Heritage Influenced Shorthorn, first calf heifer with an exceptional growth rate. She raised an excellent calf this year and is expected to be a very productive cow going forward.
Pearl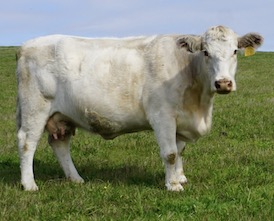 She has produced several terrific female offspring, two of which we have added to the herd. Excellent udder, disposition, and feed efficiency. She is a rugged cow.
Sapphire
She is daughter of Pearl. We have added her to our man cow herd as we believe she will be a terrific cow for us. She is extremely well balanced and should be good sized cow.
Shelly
The heaviest milking Heritage Influenced Shorthorn we have. She has a great temperament and consistently raises our heaviest calves at 205 days. Her bull calf last year was 812# at 205 days on grass — no creep. Her dam is Pearl.